Foot Care Nurse Certificate Program  Advanced
This Advanced Foot care Nurse Certificate program is the only CNA accredited foot care nurse program that is fully recognized Canada-wide. This course is offered on-site and online and provides registered nurses RN's, nurse practitioners NP's, registered practical nurses RPN's, and License Practical Nurse LPN's with the knowledge and skills necessary to function as a Certified Foot Care Nurse CFCN in private practice, or within their healthcare community setting. The course is approved by the Foot Care Nurse Certification Board and includes the Certified Foot Care Nurse CFCN  Competency Exam.
College of Health Studies is an approved education provider through the nursing education initiative at RNAO, RPNAO, and LPNA.
This foot care nurse program is recognized by the Department of Veterans Affairs (DVA) and is recognized by Medavie Blue Cross as a foot care nurse education facility for basic and advanced foot care nurse providers. This also means that upon completion of the foot care program, the nurse can become a veteran affairs foot care nurse provider, and will be able to get paid for foot care service provided to veterans by Blue Cross Health insurance company.
This Advanced Nursing Foot care training program is the only foot care nurse certification program that is fully accredited by the Canadian Nurses Association CNA and includes the certified foot care nurse CFCN competency exam and qualifies for the foot care nurse certification Certified Foot care Nurse CFCN for foot care nurses throughout Canada.
This comprehensive Advanced Diabetic foot care nursing program is taught by registered nurses with extensive knowledge and training in Advanced Nursing Foot Care, Diabetic, and Geriatric Foot care. The course follows current best practice guidelines in nursing foot care, Health Canada best practice guidelines in infection control for foot care, and evidence-based practice in nursing foot care treatment, current nursing foot care standards, and competencies, and includes the Foot Care Nurse Competency Examination.
IPAC Foot Care_Practice_Recommendations
Topics Include:
The Role of the Nurse in Basic and Advanced Nursing Foot Care Today
Diabetes: A Review of Type 1 and Type 2 of the Disease Process including Prevalence, Diagnoses, Treatment, Management, Nutrition, Medication
Pathological Conditions of the Nails and Feet
Clinical Practice Guidelines 2018 on Diabetic Foot Care
Assessment, Treatment, Health Teaching, and Documentation Specific to Advanced High-Risk Nursing Foot Care
Foot Care Tools, Equipment, and Supplies Used in Foot Care Treatment including Use of Rotary tool, Foot Files, Clippers, Nail Nippers, Foot Files with Disposable Abrasive Pads
Foot Care Techniques including Cutting Nails with Nippers, In-Grown Scissors, Clippers, Treating In-Grown Nails, Treating Fungal, Strapping, Packing, and Padding to Prevent In-Grown Nail, Soft, Hard, or Seeded Corn Removal Using Corn Remover Tools
Callous Removal using a foot file with a disposable abrasive pad
Debridement of Thicken Nails Using a Rotary tool  with Disposable Abrasive Emery Band
Current Nursing Foot Care Standards
IPAC  Infection Prevention and Control standards in Providing Foot Care and Cleaning foot care tools and devices
Techniques Using Steam  Sterilization Methods
Use of Single-Use Disposable Tools
Padding and Strapping
ABI Using Doppler to Check Peripheral Arterial Pulses will be Discussed
Upon completion of the course, you will be able to identify and understand the causes, prevention, and treatment of common foot and nail disorders. You will be able to assess high-risk clients utilizing tools use in high-risk clients, understand factors affecting foot health, understand the importance of safety using N95 mask, disposable monofilament, autoclave/steam sterilization, understand the role of Doppler in checking for peripheral arterial disease, implementation of sterilization of equipment, single-use disposable foot care tools and be aware of foot care practice standards and scope of nursing practice.
Practical advice and information on establishing a private foot care business will be provided.
Entrance Requirement
A current non-restricted nursing registration license as a registered nurse, license practical nurse, or registered practical nurse with College of Nurses of Ontario--CNO, professional liability insurance from your nursing association, Hepatitis B vaccine, TB Mantoux skin test, Criminal reference check for the vulnerable sector.
The online version of this course is open to nurses in Canada, the United States, Europe, Australia, or anywhere in the world who are registered as nurses with your College of Nurses.
For Ontario nurses students will be expected to become members of the Registered Nurses Association Ontario--RNAO, or the Registered Practical Nurses Association Ontario--RPNAO in order to obtain liability insurance
Course Material
The foot care manual and foot care kit are not included. The student will be given the names of foot care suppliers not open to the public, where you will be able to purchase foot care supplies and equipment at wholesale price to perform foot care treatment to clients for your live case studies using the correct foot care tools, equipment, and disinfectant that cannot be purchased at regular stores.
The online version of the course is offered over 10 weeks.  Students will be expected to complete 20 hands-on case studies that they will find from their communities in the required time frame
An onsite version of the course is offered over 5 days or over 5 weeks Fridays only, and 4 weeks thereafter students will be expected to complete 20 live hands-on case studies that they will find from their own communities. The 20 case studies are a requirement for foot care nurse certification.
The Hybrid Online version of the program is offered for over 10 weeks. Students will be expected to come into the school in week 3 to be shown the advanced foot care technique and how to use the tools.
The college reserves the right to cancel a course if the numbers are not met. In this situation, you will be moved to the next course date, or you will be refunded your registration fee. The registration fee is $500 to reserve a spot on the course. If you cancel a course of instruction 3 weeks prior to the course start date and the course is a go you will be charged an administration fee of $150. If you cancel 1 week prior to the course start date the registration of $500 will be charged.
There is no refund of the tuition fee after you have paid and started any versions of the foot care nurse certificate course.
Funding
For nurses in Ontario, please note that this course is tax-deductible and a tax receipt will be issued upon completion of the course. In addition, for the tuition fee paid, this course may qualify you for reimbursement from your associations for up to $1,500 under the nursing education initiative. Please contact RNAO or RPNAO for an application form for a funding grant up to $1,500/year.
Course duration is 110 hours including theory, in-class lab/clinical, and completion of 20 case studies. Each case study will take approximately 2 hours, and 30 minutes, including nursing assessment and foot care treatment. Therefore total course hours equal 60 hours of theory hours including pre-reading and approximately 50 hours to complete the 20 practical case studies.
Upon completion of the theory, demonstrating proficiency of skills in-class lab, passing the final in-class Foot Care Nurse Competencies exam, and completion of 20 hands-on case studies that you will find on your own, the student will be awarded the Advanced Nursing Foot care certificate, certificate of membership from Foot care nurse certification as a Certified Foot care Nurse--CFCN and 1-year membership with Foot care Nurse Certification Board.
Course Next Start Dates:
Online course duration is 10 weeks, including the completion of 20 hands-on case studies that you will find in your community.
Hybrid/Online course duration 10 weeks, flexible start dates, including completion of 20 hands-on case studies that you will find in your community
Onsite 5 days in class or via virtual online training. Flexible Start Dates. Upon completion of the in-class or virtual training, students will be expected to complete 20 hands-on case studies performing foot care treatment on clients that they will find in your community.
Reserve your place now, as classes are small and courses fill up early.
Click here if you are already a foot care nurse practicing and are interested in upgrading your skills in becoming certified as a foot care nurse, or if you have completed an Advanced, or a Basic Advanced Nursing Foot Care course and wish to be considered for Foot Care Nurse Certification as a Certified Foot Care Nurse--CFCN. Please submit the form below.
Click here if you are an advanced foot care nurse or foot care nurse educator and would like to purchase the CNA accredited Advanced  Foot care nurse Curriculum and teach a standardized foot care nurse curriculum that meets best practices today.
Registered Nurses Association of Ontario--RNAO Recognition Award 2017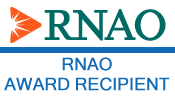 College of Health Studies is pleased to receive the prestigious Registered Nurses Association of Ontario--RNAO Promotion in a Nursing Program award.
To reserve your place or to register for the next Advanced Foot Care Nurse Certification course, please fill out the contact us form below and submit it. Upon receipt, we will contact you. If you do not hear from us within a 24-hour period, please call us at the phone number below.